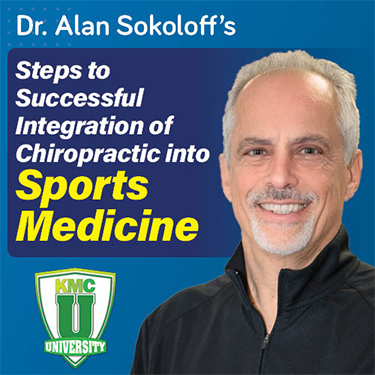 Have you ever asked yourself, why can't I get a position with my local sports team? You are not alone. Many DCs have the skill set, the motivation and maybe even the circumstances but cannot seem to get their foot into the door. If you are tempted to give away your services just so you can work with a sport's team, please stop right there. In order to avoid frustration and dead ends, you need the help of those who have been in your shoes.  
I am Dr. Alan Sokoloff,  and I am excited to share what I have learned over the last three decades with Doctors of Chiropractic that want to get involved and stay involved in Sports Medicine. There is no better way to let your patients and the public know what you do than through sports. Whether it is working with your favorite major sport team, or helping the local recreational teams in your town, let's do it together. Obstacles? We will address the most common obstacles that can prevent you from getting to your desired level of involvement.  When an NFL team goes through four chiropractors in four years, does that mean chiropractic doesn't work? NO!!! The challenges are different at every level, but you can overcome them, one by one or avoid them all together.  Find out how, in this course on successful integration into Sports Medicine.  
Let's get started.  
What Is A Sports Chiropractor?
If you asked ten different Doctors of Chiropractic (DC), you would get ten different answers as to what a Sports Chiropractor is. Is it a DC with sports related experience ? Is it post-nominal letters (letters after your name)? Although there are customized trainings and certifications, Sports Chiropractic is a DC using their number one superpower, Chiropractic Manipulation Treatment (CMT) in the athletic training room.
According to published medical articles (PMC), Chiropractic is listed as "a vital component of sports medicine, chiropractic care can enhance athletic performance, health, and competitiveness by addressing biomechanical imbalances and optimizing neuromuscular function…… the incorporation of chiropractic care into an athlete's healthcare regimen has been associated with enhanced biomechanics, decreased injury rates, and accelerated recovery."
Abundant Opportunities
There is no better way to let people know what you do as a chiropractor then through sports. Sports chiropractic can be a vessel to educate the public and increase universal utilization of chiropractic care. You can start in your office by opening up availability to treat athletes. Another great place to start is with community youth leagues. You may prefer to reach out to local colleges before setting your sights on professional teams. There are opportunities at every level. Once a DC has evaluated the opportunities, and considered the cost (availability of time), the next step is simply setting a goal.
What you will learn in this course
This course is the first step in the journey to being a successful Sports Chiropractor. It is taught by Dr. Alan Sokoloff, a DC who has been in your shoes, working his way through sweat and tears to the ultimate goal of professional sports. The only difference between Dr. Sokoloff and the attendee is experience. Dr. Sokoloff has learned about the unwritten rules in sports medicine over the years and is able to help other DCs navigate these challenges in the best way possible. Firsthand experience in this field is evident through the detailed steps within this entire course.
This course will cover the ins and outs of being a Sports Chiropractor and will include the following:
A deep dive into every aspect of sports chiropractic from skills and techniques to communication and documentation
A summary of where the greatest opportunities are and the steps to get you there
An overview of the unwritten rules of working in sports chiropractic
Advice on how to get paid for what you do
A breakdown of risk management to help you keep the position you worked so hard to obtain
$299.00
60 days Course Access to:
Steps to Successful Integration of Chiropractic into Sports Medicine