Training a New CA? This Course is for You!
Taking time to train a new Chiropractic Assistant (CA) is sometimes an impossible, but critical task.  
KMC University has designed an easy and efficient way to train your new CA with minimal effort but with maximum results, in as little as 3 days.  
This course focuses on coaching and onboarding a new chiropractic assistant but is also a great refresher for seasoned CAs. This course can assist in developing individual talents into a unified approach to CA duties in the clinic. A great way to get everyone on the same page.
Each module is presented in an easy-to-follow manner, designed so the CA can work independently. After completing each online training module, the trainer guides the CA through suggested hands-on activities within the office to cement the knowledge gained. A self-assessment is included with each lesson to test the CA's knowledge.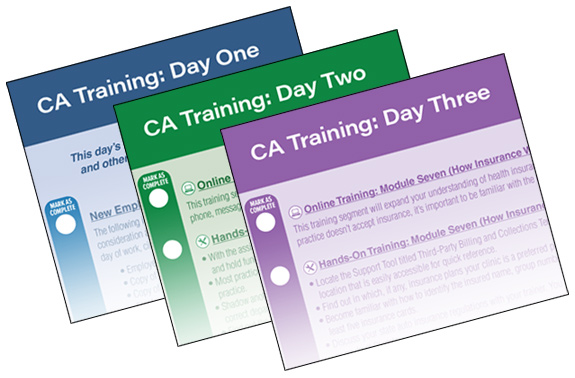 Included in the Chiropractic Assistant Basic Training:
The course covers everything a CA would need to know to hit the ground running. By following our expert training guide, in as little as 3 days, they will gain a basic understanding of: 
The history of chiropractic

Common chiropractic terminology; anatomy, billing, and coding

The importance of ethics and boundaries

Compliance basics including required initial HIPAA (Health Insurance Portability Act) training

Important office skills; phone etiquette and patient scheduling

Insurance reimbursement; Commercial, Personal Injury, Workers Comp, Medicare, and Medicaid

An overview of coding and documentation

 
NOTE: Your state may require additional Chiropractic Assistant (CA) training. Check with your state's Chiropractic Board for more information.
$199.00
Chiropractic Assistant Basic Training – 30-day access